True Sport Spotlight: TRYumph Gymnastics Academy
TRYumph Gymnastics Academy in Ottawa, Ontario, is committed to providing top quality gymnastics, fencing, and ninja programs that will benefit participants for a lifetime. They're focused on developing self-confidence through positive achievement, with the belief that a sense of accomplishment will lead to high self-worth, promoting a strong mental attitude while also developing physical well-being.
With a mission, vision, and core values that align with the True Sport Principles, TRYumph was a natural fit for the True Sport Journey pilot program - a process that aims to grow awareness of and enhance an organization's commitment to values-based sport, with the goal of embedding it in organizational culture and fostering a True Sport experience for stakeholders.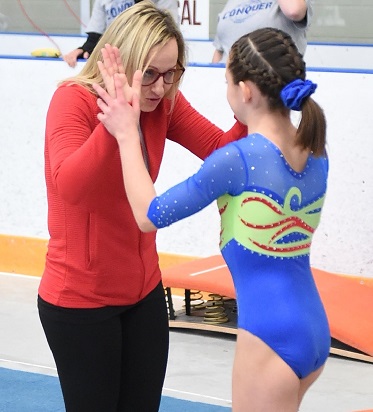 By committing to the True Sport Journey, TRYumph had the opportunity to plan, live, execute, and reflect on the intentional integration and promotion of values-based sport. The True Sport Journey provides participating organizations with a customized True Sport engagement strategy that is grounded in the idea that the likelihood of success is greater when they make a commitment to values-based sport and have a plan to implement it. This approach promotes realistic goals and incorporates feedback to support their efforts.
TRYumph identified what motivated them to start the True Sport Journey, then collaborated on the development of a True Sport Engagement plan that was customized to suit their needs.
Alina Florea, the Head Coach and one of TRYumph Gymnastics Academy founders, indicated that the True Sport Journey helped them develop goals for providing values-based sport experiences, as well as communicating the goals and remaining committed to them. "The True Sport Journey helped us bring the True Sport Principles to life, providing a more positive experience for participants," said Alina.
When asked what feedback they received about the True Sport Journey from people in the sport community, Alina said that members thought the Journey helped them realize how much sport helped their children learn life skills.
In a stakeholder survey, over 70% of respondents said the academy's commitment to True Sport had a positive impact on the sport experience, and coaches were almost universally aware of the commitment and goals for implementing True Sport this year. "The True Sport Principles are now a part of our coaches' and instructors' daily language," said Alina.
If you're interested in learning more about the True Sport Journey program, please email info@cces.ca.