True Sport Spotlight: Mentoring Juniors Kids Organization
"Sport can unite people in ways that nothing else can. The positive aspects of sport can create social change only when we activate the True Sport Principles," said Miranda Kamal, co-founder of Mentoring Juniors Kids Organization (MJKO), a registered youth charity in Toronto, Ontario that shares life skills learned through boxing.
Miranda built this organization because she knew first-hand the power sport holds to help heal physically and mentally, make new friends, and create new opportunities. As a sexual assault survivor, she turned to the sport of boxing which helped her heal, find a passion for coaching, and meet her lifelong partner. Together, Miranda and her partner Ibrahim Kamal co-founded MJKO to provide sport opportunities to young people at risk who are desperately in need of high-quality, free tools for coping with mental-health related challenges such as aggression, anxiety, stress, depression, grief, and suicidal thoughts.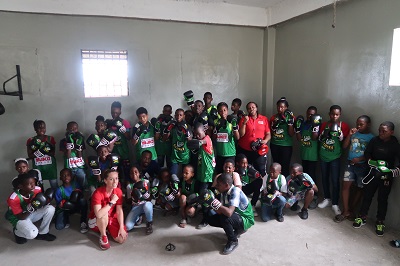 MJKO believes that sport has the ability to change lives for the better if you train, prepare and believe. The Kamals use their boxing skills to operate a volunteer-run organization that provides free fitness and leadership classes that promote positive, healthy lifestyle choices for children and youth.
Their program is focused on empowering their students to develop an appreciation for physical fitness, inclusive communities, mindfulness, healthy eating, and volunteerism. After discovering that the True Sport Principles held similar values, they decided to commit to True Sport in 2013. Ever since joining, they have gone above and beyond to remove barriers and model the principles Include Everyone, Respect Others, and Give Back.
"We live by the True Sport Principles daily by creating a safe place for young athletes to Go For It, regardless of how good they perceive they are. We have clear rules and expectations for all family members to Play Fair. We foster a safe space where people around the world unite in sport while Respecting Others and Including Everyone. Our priority at MJKO is the health and safety of our members. We focus on a holistic approach to help everyone Stay Healthy. Also, we believe all sport is rooted in FUN! It doesn't matter if you are an elite athlete or a kid trying a sport for the first time; we need to Keep It Fun. Lastly, since all our programs are free for the end user, we expect members to Give Back to the club as volunteers," said Miranda.  
MJKO has changed the lives of many young people. "We have provided free access to boxing with certified coaches as a tool for good physical and mental health to over 15,000 young people. In addition, we partner with community organizations, schools, local police, and even other charities to improve young people's well-being using boxing as a catalyst for change," said Miranda.
With the help of the framework that True Sport offers, MJKO continues to help shape the lives of their members for the better. The impact of MJKO is captured by one of their alumnus, "You have certain values that you were taught while at MJKO. It leaves an imprint that you take with you. It doesn't matter where you go – you spread it without really trying to – it just comes naturally. So, I definitely consider myself a community champion because if there's any way I can help out at an event or help a person or group, I love to do it. I love helping people, and that's something I learned at MJKO."