Leitrim Minor Hockey Association, "Hawk-ey Gives Back" – Leitrim, Ontario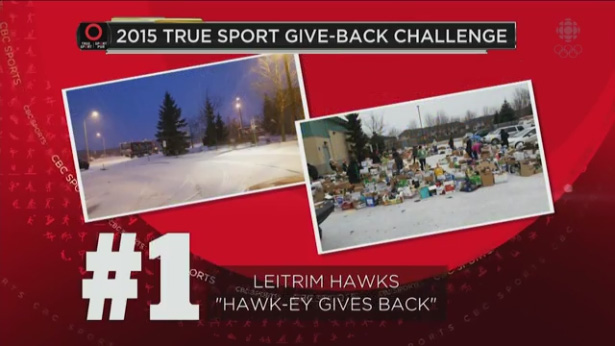 As Christmas approached last year, the Leitrim community was struck with two tragedies: the death of a young mother of five girls, and the father of another family was fighting for his life on a heart transplant list. The local hockey community was trying to figure out how they could work together to not only raise funds for these families, but also show their support and teach its young players the importance of being part of, and giving back to, the community in which they play.
On a bitterly frigid winter morning, the Leitrim Minor Hockey Association (LMHA) organized a bottle drive. Despite the weather, players and parents were out in force and were very grateful to be taking part. People were quite emotional, trying to absorb the overwhelming support happening in the day. Many tears were shed as teams came in to drop off their bottles and as people stayed to help with the enormous sorting effort required. As the incredible day unfolded, they filled five and a half transport trucks with bottles.
The LMHA was amazed with the response afterward. Coaches sent emails explaining their experiences. Many teams got up early and did their bottle collection before playing games on the day of the bottle drive. A few coaches said that they teared up with pride during their pre-game speech; some said they had to leave the dressing room because they were so overcome with emotion and pride.