True Sport Schools in Action
Many kids have their first sport experience in school. Whether it is during physical education class, on the jungle gym at lunch or as part of an afterschool program, children are exposed to a variety of physical activities that help them
Many kids have their first sport experience in school. Whether it is during physical education class, on the jungle gym at lunch or as part of an afterschool program, children are exposed to a variety of physical activities that help them to develop a number of physical and social skills. It is apparent that they also begin to acquire early skills in ethical decision making.
When schools commit to the True Sport Principles, students and staff commit to the belief that good sport can make a great difference. By using sport intentionally to promote positive athletic and student participation, schools are taking steps towards sport that is healthy, fair, inclusive and fun. As of August 2021, 500 schools from across Canada have joined True Sport.

Richmond Hill, Ontario's Richmond Rose Public School has a long history of nurturing character growth and education. It has won awards for its character development programs and officially became a True Sport School in 2009.
To promote True Sport in their school, the students painted the True Sport Principles on the walls of the gym.  "At the time, we were doing a lot of other public art in a lot of other places throughout the school," says teacher David Sandiford. "It just seemed natural to extend that into the gym in an effort to make the gym a more inclusive place. The ideals behind True Sport matched so much with our character program that we figured 'why not put them on the walls?' "The students also created a video documenting the transformation of the gym called 'Our Gym's Evolution'.
At Broadview Public School in Ottawa, Ontario True Sport has traveled beyond the gymnasium and made its way into the classroom. "Whether you're playing sports or you're working in a group in class, you need to keep these principles in mind," said Melanie McCarthy, learning resource teacher at Broadview. "They will guide you and help you to be a good citizen. They will help you be productive and be a part of a team. These are the ideals that we're trying to promote."
Early in the 2010-2011 school year, Broadview developed a True Sport Student Ambassador program.  Several students from grades four through eight where selected as class representatives. They not only report to their own classrooms, but to classes in the younger grades as well. By letting the students teach their peers about True Sport and inform them of the latest information and initiatives, it allowed them to take ownership of the program and gave them a voice.
As their first school-wide initiative, the True Sport Ambassadors decided to throw a cheer contest to get the students excited about True Sport. Each class came up with their own 'True Sport Cheer' and presented it at a school assembly. The True Sport Ambassadors then had the daunting task of choosing the winning cheer. In the spirit of giving back, the winning class was awarded $100 (donated by the Parents' Association) to give to a charity of their choice. The students were enthusiastic about the cheers and learned a lot about the principles in the process. 
Broadview has also incorporated True Sport into their school assemblies. "We have monthly assemblies whereby we highlight one of the principles," says Melanie. "We don't necessarily do the whole assembly around that principle, but it's our common umbrella. We're going to have an assembly for Earth Day and we're going to tie-in respecting the environment." 
School District 17 in Oromocto, New Brunswick, is made up 18 schools ranging from elementary to high school – all of which are True Sport schools. After joining True Sport, they came up with a plan that would not only change the way that the student-athletes conducted themselves, but also the coaches and spectators. Using the True Sport Principles, they developed a district-wide True Sport Contract that had to be signed by coaches, players and a guardian. The contract outlines a code of conduct that promotes a positive sport experience for everyone involved.
"When we started, there was a little bit of flack at first," recalls Robin Buchanan, physical education mentor, District 17.  "But then, people started really getting on board. If the coaches noticed that their team was getting a little rowdy or misbehaving, they would have a team meeting and they would pull out the contract and say 'hey, do you remember back at the start of the season? I signed it, your parents signed it and you signed it. We're a team, let's do this.' "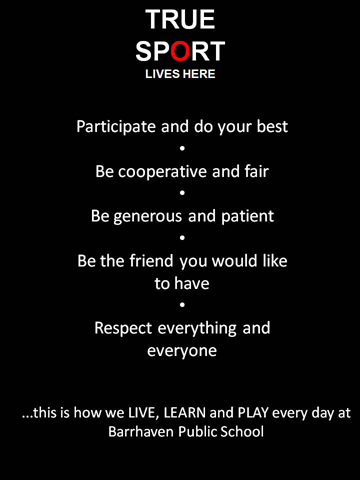 Barrhaven PS developed their own
set of True Sport Principles using
the True Sport Agreement tool.
Every child has the right to participate in sport in an atmosphere that is fair, safe and open. The unique approaches and achievements in living True Sport in schools are inspiring.  More and more schools are recognizing the link between True Sport and character education making it easy to bring good sport, as well as a values-centered and principles-driven school environment to life in a meaningful way. True Sport is proud of all the schools across Canada who have chosen to declare themselves a 'True Sport School'. There is a role for everyone to play – we invite students, teachers, coaches, administrators, schools, and school boards, as well as athletes, varsity teams and intramural programs to join True Sport because good sport can make a great difference! Since the introduction of the True Sport Contract, District 17 has witnessed many changes and received a lot of positive feedback for their dedication to good sport. "Now if there is one negative thing, it stands out and it's the players that are the ones who are policing it," says Robin. "The issues that we deal with now aren't necessarily to the severity of what they were in the past. Things that are a big issue now would have been a small issue five years ago."