Spotlight: Sport for Life
Carolyn Trono is the Director of Quality Sport Development for the Sport for Life Society, which is a not-for-profit organization that aims to create a future in which everyone has access to quality sport and physical literacy experiences. Sport for Life collaborates with Canadian institutions and organizations to help them improve their programs and services to benefit everyone.
In her role at Sport for Life, Carolyn has worked with many sport organizations to help them develop their own Long-Term Development (LTD) frameworks. Recently Sport for Life and a number of the LTD Advisors vetted the updated True Sport Long-Term Development Framework to ensure it complements and adds value to the core LTD concepts.  
In addition to her role with Sport for Life, Carolyn is also the founder and Volunteer Executive Director of the Winnipeg Newcomer Sport Academy (WNSA), an organization that provides low-income, refugee newcomer youth and their families with quality multi-sport programming consistent with LTD and the True Sport Principles, as a way to contribute to their positive integration in their new community. 
"What is really interesting is how the WNSA experience has given me huge insight about access to sport and the challenges of running local community quality sport programs, including the workload on volunteers to keep sport going in the community," said Carolyn.
Carolyn explained how True Sport plays an important role in the execution of WNSA programming.
"True Sport nudges us to ensure we are running our programs based on solid values that guide the way we behave both on and off the field of play. Sport can present opportunities to teach life skills," said Carolyn. "True Sport's resources have helped stimulate discussions among our coaches and leaders."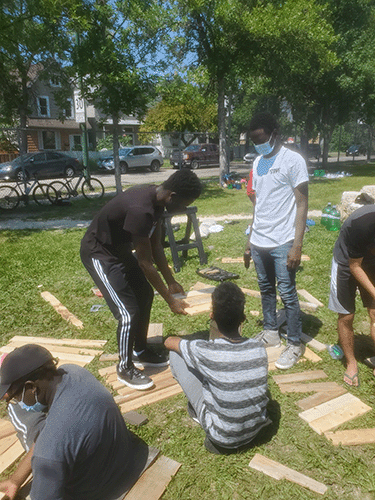 The WNSA activates their commitment to True Sport in creative ways.
"It has been hard during the pandemic but our leadership program for newcomer youth did a Give Back project that supported equity-deserving groups that serve the inner city in Winnipeg," said Carolyn. "Our newcomer youth leaders built planter boxes, which they painted, planted and delivered to six local groups."
Carolyn's work with newcomer youth is a great opportunity to apply the ideas in the new True Sport Long-Term Development Framework, which is filled with ideas to maximize sport and physical activity experiences for all participants by encouraging the simultaneous development of ethical and physical literacy.
"This tool helps guide our age- and stage-appropriate concepts, recognizing that sometimes there are challenges with language and trauma, and it doesn't always apply," explained Carolyn. "It serves as a great guideline and reminder of how to reinforce and teach good sport as life skills."
Learn more about the True Sport Long-Term Development (LTD) Framework