True Sport Spotlight – The Edmonton Area Alberta Dressage Association
By Deb Meraw, Past President of the Edmonton Area Alberta Dressage Association
The Edmonton Area Alberta Dressage Association (EAADA) is a chapter of the Alberta Dressage Association (ADA) and has been a proud member of True Sport since 2018. Dressage is a type of horseback riding as well as an Olympic sport. Some athletes compare it to ballet on horseback or synchronised swimming.
I am a past President of the EAADA and read about True Sport in a Sport Council Newsletter. After discussing the potential benefits, EAADA Executive decided it would benefit our members as well as our sport, to join.
The dressage community, like many sport organizations, has been struggling to attract and keep young riders. True Sport offered us the opportunity and resources to encourage our youth (12 to 25 year olds) to have positive experiences while participating in clinics with reputable coaches. We found that the True Sport Principles provide a framework for youth, parents and coaches to enjoy their participation in dressage and continue to grow and learn, both in the sport and personally.    
The EAADA has incorporated True Sport in several ways. For example, our first step was to create the EAADA Youth Ambassador Program so youth riders would have a voice and to encourage younger members to stay involved.
In addition, our quarterly EAADA newsletter includes excerpts from the True Sport Newsletter and True Sport Principles in each mail out. This initiative interested another chapter of the ADA - the Alberta Junior Young Riders Association (AJYR), whose membership had dwindled to only a few riders and was in danger of dissolution. This led to the creation of the Alberta Youth Dressage Development Program, which has True Sport as its foundation and is based on the Equestrian Canada Long-Term Equestrian Development (LTED) model.
The AJYR youth clinics have been a huge success. We have offered these clinics throughout Alberta at a reduced cost to our riders, thanks to the support of our sponsors and qualified coaches who believe wholeheartedly in the True Sport Principles. It's a fun, safe, and supportive environment for riders to learn about dressage. Youth amabassadors are hired and mentored by a featured coach during each clinic, which is also a way for the mentors and coaches to demonstrate the True Sport Principles to young adults. These youth amabassadors are encouraged to "Give Back" to the sport they are so passionate about. Our coaches are positive role models to both the riders and the youth amabassadors.  
We implement and introduce True Sport before our three-day clinics by sending the True Sport Principles to coaches, riders and parents in a welcome package. On the first evening, we hold an "icebreaker" which helps the riders meet each other in a one-on-one "speed-dating" style. During this time, riders are asked to describe what True Sport means to them and the answers are posted for the entire weekend, where riders can add more anytime they wish. After the clinic, the riders' answers are collected, then a word art is created and sent to all participants, and we send sponsors the word art in a thank-you letter signed by all riders.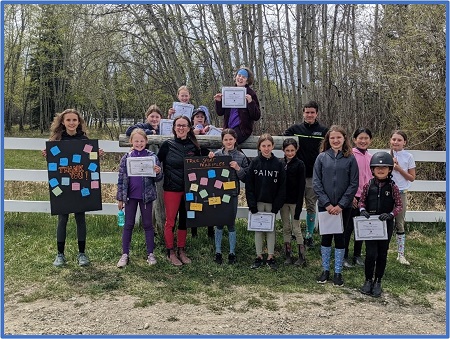 In our experience, the easiest way to stay committed to True Sport is to share the True Sport Principles and have all parties involved – coaches, organizers, parents and riders - discuss and implement the principles throughout the clinic. The principles catch on, and throughout the clinic, we can observe riders demonstrating what they have learned and observed by helping and encouraging one another.
We have found that after these clinics the riders continue to support one another and stay in touch. Another result of our implementation of True Sport is that youth membership has started to grow and our youth association is now thriving. One rider suggested booking an entire barn area only for young riders so they could meet and stay connected during dressage competitions!
We have found the True Sport Principles provide the foundation for athletes, coaches and parents to ensure a positive experience for youth, not only in dressage, but also in the other activities. We believe this will ensure the future of the sport in Alberta.
Would you recommend this clinic to others? "Yes! It's awesome to see people my age learning together and being more than just competitive!"– Dressage rider

"It is so refreshing to see my daughter enjoying herself, while meeting other young riders as they learn about how much fun dressage can be." – Rider parent

"The Alberta Youth Dressage Development Program [along with the introduction of the True Sport Principles] aligns with our philosophy for youth development, and I know firsthand that programs like the AYDDP are critical to the future of dressage in Canada." – Jaimey Irwin, Equestrian Canada High-Performance Certified Coach