True Sport at the 2017 Canada Games
True Sport "Standing Os" were used during the 2017 Canada Games to recognize athletes and teams who lived the True Sport Principles. Canada Games participants were encouraged to nominate True Sport moments that were deserving of special recognition, and by the close of the Games, nearly every province and territory had received one. "Standing Os" were delivered in person and recognized through social media.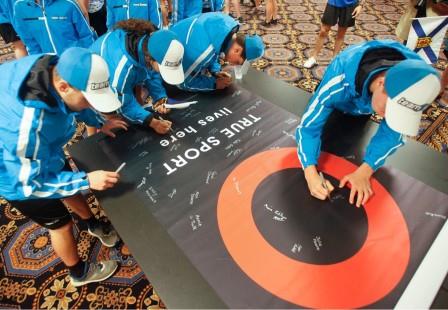 Team British Columbia
Women's Softball Team's volunteer bat girl, Taylor, probably got more than she bargained for throughout the Canada Games softball tournament. Athlete Emma Entzminger took the 10-year-old bat girl under her wing during the Games – acting as a role model and spending time with her. Entzminger's coach, Michelle Peters, said, "It's something special and BEYOND cute and amazing!" Taylor and Emma even developed their own handshake!
Team Ontario
The Women's Volleyball team took the Canada Games' "Clean as You Go" campaign as a challenge to clean up around the Athletes Village and as a way to thank the University of Manitoba for their hospitality. The team demonstrated the True Sport Principles of excellence both on and off the field of play, and they had fun while they gave back.
Canada Games are committed to sustainability and work towards making the Games as green as possible through recycling, water bottle refill stations, and garbage and compost receptacles. This team showed respect for their competitors, the Games, and their environment by taking the initiative to spruce up their surroundings.
Team Manitoba
Athletics Head Coach Claude Bérubé was selected to give the Coaches' Oath at the Opening Ceremonies for the Games. Coach Claude was honoured with a "Standing O" to show appreciation for his dedication to the True Sport.
Two athletes from Team/Equipe New Brunswick exemplified True Sport in action. Swimmer Jonathan Foran could have gone home from the Games a few dollars richer, but when he found a wallet at the pool he acted with honesty and returned it to a grateful member of Team NWT. Soccer athlete Zane Brennan gave his game jersey to a Winnipeg boy who he considered to be his good luck charm.
Team Newfoundland & Labrador's
The Baseball Team have been demonstrating what it means to Give Back for years. The athletes have been supporting youth-oriented sport programs, as well as volunteering with their respective local minor baseball associations to foster player development.
Prior to the Games, the team hosted a development session with 30 Pee Wee AAA players. The athletes used the opportunity to give back to the associations that helped foster their development, as individuals and athletes.
At home, the team treated their bat boy, Ryan, like a full member of the team and included him in all of the team activities. At the Games, the team was assigned two more bat boys, Luca and Jack, who got the same inclusive treatment. When the team staff learned that Luca's Pee Wee AAA provincials were taking place the same week as Canada Games, they made arrangements to be at the game to cheer him on!
This team has done an exemplary job of creating memories and giving back to sport.
Team Northwest Territories
The Women's Volleyball Team had an unconventional journey to and during the Games. The team didn't have a coach so Tyler Comeau decided to help by travelling regularly from Lethbridge, Alberta to coach the team.
Player Eureka Embodo shared that once they were at the Games, the team started to believe in themselves and really connect as a team after a game or two of competition. While they weren't always on the winning side, they always played with heart.
The team visibly demonstrated the True Sport Principle 'Including Everyone' by having rainbow tags on their uniforms and showed how much they valued their opponents by asking for a photo with both teams together after every match. Team NWT was recognized with a "Standing O" after their final game.
Team Nova Scotia
Kayaker Anna Negulic tipped out of her kayak during the first lap of the K1 5000m race, but despite this set back she demonstrated grace, dignity and determination when she climbed back into her boat and paddled to an 8th place finish. Anna was recognized with a "Standing O" delivered by True Sport Lives Here Manitoba Committee Member and Canada Games Medical Lead Glen Bergeron and his medical team.
Team Prince Edward Island
The Men's Softball Team kindly offered to share their bus with Team New Brunswick, who was waiting in the hot sun for their own ride.
Team Yukon
The Women's Basketball Team lost their semifinal game to P.E.I. and was out of contention, but that didn't put an end to the smiles and positive vibes in their post-game huddle. The team's coaching staff closed the tournament on a high note by telling the team, "We're proud of how hard you worked all week and that you played with tenacity and heart." This is a perfect example of how to help young athletes find the joy in sport and lose with grace.