Values-Based Coaching: A True Sport Approach
Values-Based Coaching: A True Sport Approach is an e-learning course designed for coaches at every level of sport.
The course will introduce coaches to values-based coaching and True Sport, expand their understanding of long-term development, and explain the connection between Safe Sport and True Sport.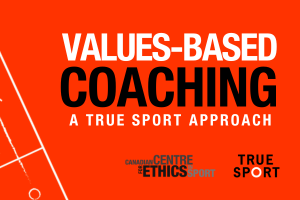 Coaches will be provided with True Sport information, tools, and approaches to support the delivery of values-based programing. The interactive course highlights how using the True Sport Principles will establish positive and enriching sport experiences for all, with reflection activities to connect personal coaching experiences to True Sport. And of course, coaches will be provided with resources to implement what they learn in practice.
This course will give learners:
Information, tools, and approaches to deliver values-based programming through True Sport,
An opportunity to reflect on their coaching philosophy, and,
Resources to help them use True Sport as a tool in values-based coaching.
Why is this course important?
Values are ideas that are important and meaningful to individuals and can influence their motivation and decision making. Incorporating values into coaching can ensure positive experiences and foster a culture of good sport. This course:
Provides an opportunity for coaches to learn how to leverage the benefits of good sport from a platform of shared values,
Demonstrates the importance of embedding values into practice, and,
Provides ideas for coaches to implement values through activities that are relevant to the coach and participants.
Course Details
Coaches who maintain their National Coaching Certification Program (NCCP) certified or trained status will earn two NCCP professional development points upon completion of this course.
This course will take approximately two hours to complete. Learners may complete the course in multiple sittings. Once the course is complete, it will appear on the transcript in the Locker.
Cost: $15.00
To access the course, log in to The Locker, the Coaching Association of Canada's e-learning portal
Technical Requirements
For the best user experience, Google Chrome and Microsoft Edge are the recommended internet browsers.
If course navigation troubleshooting is required, use the menu on the left-hand side within the course window to select the next slide.
For course assistance, contact: education@cces.ca.
Acknowledgements
Thank you to the many coaches and reviewers from across Canada who made a significant contribution to the development of this resource. We are grateful for the perspectives of experienced volunteers and professionals.
Special thanks to the Coaching Association of Canada for their valuable contribution to the course content.
Testimonials and Feedback
"A course that is rich in tools and resources that are practical and easy to apply to your day-to-day coaching, while expanding the lens in which you make decisions as a coach. "

"Although most of the course is geared towards team sports, I found [Values-Based Coaching: A True Sport Approach] very useful and applicable to individual sports."

"As someone who has been struggling as a coach and with motivation lately, I found this course uplifting and helpful. It helped me reflect on my goals, values, and coaching philosophy. It provided me with a better understanding of True Sport Principles and how I can put my values into action as a coach."

"This course really brings to light the positive and fun side of a safe sport environment. We need to intentionally focus on the presence of good in sport, not the absence of bad, and this does just that. By instilling these 7 principles into our regular practices, we can ensure that all participants are safe, supported, and strengthened through sport. "

"As someone who already had a solid understanding of the True Sport Principles and values-based coaching practices, I still walked away with new ways to strengthen my training environments and relationships. This course was a great way to validate some of my personal coaching philosophies and examine the areas where I can set the bar higher."

i class="slide">

"This course and its resources are essential for any coach from grassroots to the Olympics. It provides easy to use resources that will challenge you to be creative and find ways to implement these principles and values into your day-to-day coaching. I encourage all coaches to embrace a values-based coaching philosophy."

"This interactive course made me reflect on the values important to me and gave me the tools to help me apply them in coaching. The course is also full of great resources I know I will continually revisit and share."

"Excellent course that helps coaches connect what they are already doing to the principles of True Sport. It enables participants to embed these principles within their coaching philosophy and make connections between the game that they play and the everyday life that they live."