Player Selection Process for Team Sports
How can you ensure that your sport organization is recruiting and selecting players in a values-based and principle-driven way? The Player Selection Process is a values-based and principle-driven guide and approach to player selection that is designed to help sport organizations ensure transparency and fairness as well as communicate their commitment to True Sport. Assisting coaches in providing athletes with the best possible sport experience, this guide helps to identify the most appropriate level of play for individuals in an environment where they can grow as athletes and as people.
The Player Selection Process for Team Sports provides the following:
Glossary of Terms to clearly define positions and processes within a sport organization;
Player Selection Framework;
Player Evaluation Process, including the pre-evaluation period, the evaluation period and evaluation criteria;
Player Selection Process;
Standard Letter of Acceptance/Status, Player Evaluation Form and Pre-Season Letter to Members; and
Additional Resources.
We've made it easy for sport organizations and coaches to customize this guide. Simply download a document below and fill in the information you see <between the angled brackets>.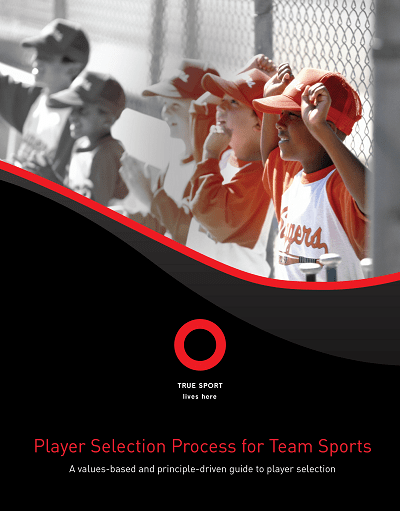 Acknowledgments
True Sport wishes to acknowledge and thank the following individuals for their significant contributions toward the development of this resource.
Jeff Baker – Manager of Hockey Operations, Hockey Eastern Ontario
Jarrod Beattie – Programs Manager, Ottawa City Soccer Club
Greg Clarke – Director, Private Client Group, HollisWealth® Insurance Agency Ltd.
Karri Dawson – Executive Director, True Sport Foundation 
Matt Ebbs – NHLPA Certified Agent and Lawyer
Paul Forgues – President, Cumberland Bandits Hockey Club
Garry Galley – Former NHL player
Rick Julien – Vice President, Almar Roofing LTD.
Jim Kyte – Dean, School of Hospitality and Tourism, Algonquin College, former NHL player
Cyril Leeder – Past President, Ottawa Senators
Paul Melia – Former President and CEO, Canadian Centre for Ethics in Sport
Wayne Parro – Senior Coaching Consultant, eLearning, Coaching Association of Canada
Jeff Partrick – Corporate Services Director, Skate Canada
Questions regarding this resource may be directed to: info@truesport.ca.