The "World's Largest Hockey Festival" embraces True Sport
Spring is officially here, but don't put away your hockey stick just yet! Hockey Night in Canada's Play On!  – the World's Largest Street Hockey Tournament  and an official True Sport event – is on its way to a neighbourhood near you. Sign up a team today!
"We have embraced the seven True Sport Principles (Go For It, Play Fair, Respect Others, Keep It Fun, Stay Healthy, Include Everyone, and Give Back) in our events across Canada as we celebrate the game of hockey and Canadian culture," said Scott Hill, National Program Director of Hockey Night in Canada's Play On! "We're pleased to join True Sport and to demonstrate to individuals and communities across Canada the power of good sport."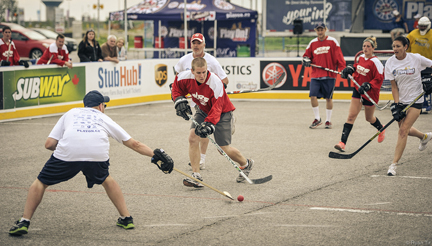 Play On! exemplifies each True Sport Principle, but places emphasis on Giving Back. This year, Mr. Hill has selected Right to Play as the festival's charity of choice. Right to Play's mission is to use sport and play to educate and empower children and youth to overcome the effects of poverty, conflict, and disease in disadvantaged communities. 
"We are very pleased that for the second consecutive year Play On! has embraced True Sport and the important message that good sport can make a great difference," said Karri Dawson, Director True Sport Operations. "Last year, 5,360 teams from across the country took part."
Hockey Night in Canada's Play On! features recreational and competitive four-on-four street hockey tournament divisions for boys, girls, men, and women of all ages and skill levels – anybody can play! Teams consist of four to seven players. Medals and other great prizes will be awarded to the winning teams in each division. Events will take place in 20 cities across Canada over a nine week period in May and June before celebrating the National Championships in Kingston this August.
"We encourage True Sport members and all Canadians to register a team and demonstrate their commitment to the True Sport Principles, " said Dawson.