The "World's Largest Hockey Festival" embraces True Sport
Spring is officially here, it's time to stuff your winter coat in the back of your closet, say goodbye to your thermal socks and hang up your ice skates – but don't even think about putting away your hockey stick!
Hockey Night in Canada's Play On! street hockey tournament – the world's largest hockey festival – is on its way to a neighbourhood near you.
Hockey Night in Canada's Play On! features recreational and competitive four-on-four street hockey tournament divisions for boys, girls, men, and women of all ages and skill levels – anybody can play! Teams consist of four to seven players. Trophies and other great prizes will be awarded to the winning teams in each division. Events will take place in twenty-one cities across Canada over a nine week period in May and June before celebrating the National Championships in fall 2013.
Play On! has been running its annual street hockey tournaments for 10 years now, and this year marks two very important milestones: it will attempt to set a Guinness record for World Largest Street Tournament, and it has declared itself a True Sport Event!
"We believe in the seven True Sport Principles and will do our part to ensure that the importance of these principles continues to be clearly communicated and understood by the over 400,000 Canadians who attend Play On! events this summer," said Scott Hill, National Program Director of Hockey Night in Canada's Play On! "We're pleased to join and support the True Sport Movement across Canada."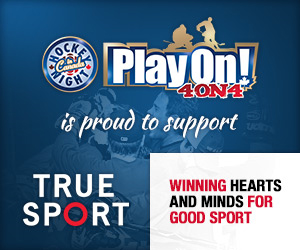 The Play On! street hockey tournament exemplifies every one of the True Sport Principles, but places emphasis on Giving Back. That's why Mr. Hill has selected Right to Play as the festival's charity of choice this year. Right to Play's mission is to use sport and play to educate and empower children and youth to overcome the effects of poverty, conflict, and disease in disadvantaged communities.
"We are very happy that Play On! embraces the True Sport Movement and the important message that good sport can make a great difference," said Karri Dawson, Director True Sport Operations. "Last year, 4,850 teams from across the country took part; we encourage True Sport members and all Canadians to register a team and demonstrate your commitment to the True Sport Principles with teammates and opponents alike."
So, grab your hockey stick, sign up a team and go down in the history books as helping set a Guinness record!
About Hockey Night in Canada's Play On!
Hockey Night in Canada's Play On! is a national, truly Canadian, wholesome street hockey tournament delivered in a festival atmosphere in 20+ cities and towns between May and September and is open to males and females from seven years of age (and younger) to 35+. For more information on Hockey Night in Canada's Play On! and a full list of dates and locations of the tournament, please visit www.playon.ca.
About True Sport
True Sport is Canada's national movement for sport and community. Its goal is to help sport live up to its full potential as a public asset for Canada and Canadian society, making a significant contribution to the development of youth, the wellbeing of individuals, and quality of life in our communities. You can join True Sport at www.truesport.ca.