Mount Pearl: A True Sport Community in Action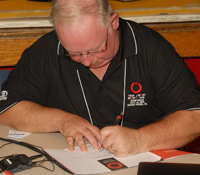 Many communities across Canada have been able to bring True Sport to life in a very meaningful way but few have been able to do so with as much dedication and enthusiasm as the people of Mount Pearl.
Located in the Northeast Avalon Region of Newfoundland lies one of True Sport's newest and most dedicated communities. Although the City of Mount Pearl officially signed the True Sport declaration certificate on October 2, 2010, they had been a True Sport Community for some time already.
Many communities across Canada have been able to bring True Sport to life in a very meaningful way but few have been able to do so with as much dedication and enthusiasm as the people of Mount Pearl. From October 1-3, 2010, the Mount Pearl Sport Alliance hosted a True Sport Symposium to introduce the movement to the community.
The Symposium began on Friday morning with "Hot Stove" discussions in the junior high and high schools across the city. Members of the Sport Alliance, local sport celebrities and students took part in conversations to examine how their community sport experience could be improved. Students shared the many reasons they loved sport and stayed involved while others explained why they had given up sport. Information gathered from the discussions is currently being reviewed to identify ways to make sport in Mount Pearl more inclusive, fair, fun and supportive of personal excellence.
On Saturday, more than 75 people from the community gathered to take part in a variety of forum discussions concerning sport and the community. The first session began with an introduction to the True Sport Movement, demonstrating how good sport can make a great difference in Mount Pearl. A number of educational sessions were presented by specialists throughout the day on an assortment of topics including: positive coaching practices, how sport can reach out to troubled youth, and the benefits of proper nutrition. Those in attendance were also divided into small groups to discuss the True Sport Principles for Sport, as well as the Principles for Communities. The results of these discussions will frame a Community Action Plan that will be finalized during a second symposium in 2011. The day concluded with Mayor Randy Simms signing the official True Sport Declaration.
Sunday kicked off the first annual "Try-it Sports Day." More than 20 sport organizations provided the opportunity for members of the community to try their sport in a safe and welcoming environment complete with instruction and the necessary equipment. A number of facilities across the city donated space and access to each sport was free-of-charge to all. It was a great opportunity for many to rediscover the joy of sport and learn about some of the newer or lesser known sports offered in the community.
The primary goal of the symposium was to get the community talking. Organizers wanted to make sure that everyone knew what it meant to be a True Sport Community and how good sport could help to build a stronger and more vibrant community.
The symposium was an undeniable success, but what was even more impressive was the dedication of everyone who played a role in organizing the three-day event. Throughout 2010, posters and banners could be seen around town, students ranging from elementary to high school were given letters and brochures to take home with their report cards, Member of Parliament Siobhan Coady distributed flyers within her constituency and Active @ttie (the Mount Pearl True Sport Mascot) attended a number of events to raise awareness.
True Sport looks forward to Mount Pearl's next symposium and to seeing what the future holds for sport in this values-based and principles-driven community.
To learn more about the City of Mount Pearl and the Mount Pearl Sport Alliance, visit www.mpsportalliance.ca.
Share your community's True Sport story by sending an email to info@truesport.ca.