Keep Your Brain in the Game
True Sport and the Canadian Centre for Ethics in Sport are partnering with other national organizations to develop a project to tackle the issue of brain injuries in team sports. Read more to find out how you can get involved….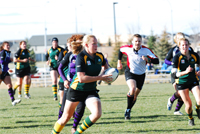 If you've opened the sports section of any Canadian newspaper over the past year, it comes as no surprise that news about brain injuries in sport are becoming as common as hearing a song by Justin Bieber on the radio. Every week it seems as though another athlete is put on the injured list due to concussion.
Brain injuries, including concussion, are serious and should be taken seriously. They can have devastating and long-term consequences. Look at NHL star Sidney Crosby.  At the height of his career, a series of hits led to a concussion that forced him off the ice for 11 months. Almost immediately after his much anticipated return to play, he endured another hit that has once again taken him out of the game for an undetermined amount of time. Some people have begun to wonder if this concussion will be a career-ender, if so; it would be an injustice to him, his fans and the sport.
This is not a problem that only affects professional athletes. Children and youth involved in sport are more likely to suffer head injuries than any other group.  More than 40 per cent of head injuries in children and youth aged 10-19 years treated in emergency departments are sustained during recreation and sport activities."(Public Health Agency of Canada )  
So, how do we protect our children? The solution isn't to stop them from playing sports. Time and time again, sport has proven to be a valuable public asset that can produce a number of benefits for participants and the communities that support it. These benefits are maximized when the sport experience is a good one, driven by values and principles, known in Canada as True Sport. One of the greatest threats to True Sport in our communities is the occurrence of preventable injuries in sport resulting from unsafe practices.
As part of the Public Health Agency of Canada's Active and Safe Initiative, the Canadian Centre for Ethics in Sport, Coaching Association of Canada, Hockey Canada and ThinkFirst Canada have partnered to develop a project to tackle the issue of brain injuries in team sport.  The organizations will collaborate to create resources with a cohesive message helping to educate those involved in high impact team sports.  The project aims to reduce the rate and severity of brain injuries, including concussion, in child and youth team sports by decreasing the incidence of head injury events and improving return to play decision making.
As a contributing member of True Sport, the Canadian Centre for Ethics in Sport will implement the True Sport Principles as a conduit for ensuring that sport in Canada is fair, safe and open for everyone. To achieve this, the Centre for Ethics will collaborate with community sport organizations to develop a number of True Sport Brain Injury Prevention Resources that will target different groups who participate in or deliver high impact team sports at the community level. Sport organizations from across Canada, and particularly in isolated and remote locations, will have access to practical resources that offer up-to-date and reliable information to support the identification and treatment of brain injuries, particularly concussion.
Fifteen "communities of practice" will be established to test and refine these tools as well as other education and engagement initiatives.  An emphasis will also be placed on identifying and nurturing the strengths and capacities of each community of practice to develop sustainable strategies to reduce brain injuries. By including and empowering the communities of practice, they will take the lead in implementing and maintaining the strategies. By working with multiple groups across Canada, sport organizations representing high impact team sports will have the opportunity to collaborate on effective ways that the organizations themselves can address the issue of brain injury and concussion prevention.
This is where you come in…the Canadian Centre for Ethics in Sport needs your help to create a safer sport environment and a safer sport system for Canada's children and youth. If you are involved with a high impact team sport organization (hockey, football, baseball, rugby, soccer, lacrosse, ringette) and want to join the conversation and help reduce brain injuries, please contact us to get involved as a community of practice.
For more information on the Active and Safe Initiative or how you can get involved, please contact:
Jennifer Keith
Manager, True Sport Engagement