Clean Air Champions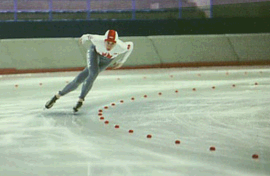 It's funny how some of the most essential things that we take for granted can be found directly under our noses.
It's funny how some of the most essential things that we take for granted can be found directly under our noses. The air we breathe literally surrounds us, but we hardly give it a second's thought until it is of noticeably poor quality or we experience breathing problems.
Clean Air Champions – a True Sport Ally – is a national charity committed to educating Canadians on the importance of air quality and its connections to health.  The organization works with respected, high-caliber athletes to educate and motivate people to adopt practices and lifestyles that improve both environmental and personal health.
Clean Air Champions was founded in 2001 by two National Team Athletes and an environmental sport expert. From the beginning, they recognized that athletes would make perfect ambassadors for issues concerning sport, health and the environment.
Two-time Olympic speed skater Ingrid Liepa has been working with the organization since 2007. One of her first roles with the organization was as a community partner, delivering the Clean Air Achievers program in classrooms in British Columbia.
"It's such an exciting thing for a kid to meet an Olympian and there's always an opportunity to talk about our sport and make connections between our sport experiences, travels and Clean Air Champions," says Liepa. "Kids love athletes. It's a really neat, practical way to bring home the issues to the kids – by a role model that they get excited about."
Clean Air Champions encourages the True Sport principles of staying healthy and giving back by offering a variety of free programs that are available to schools, the recreational sport community, and coaches. One such program, Air Aware, is dedicated to enhancing personal health and air quality. Through dynamic and interactive presentations, Champions share important information about allergies, asthma, air quality, active lifestyles, and the interconnections between them, and inspire Canadians to adopt more active, empowered and sustainable lifestyles.
"The Air Aware project started in 2009," explains Liepa. "It conducted some really extensive research, including formal surveys with students and teachers, plus research on how asthma and allergy were being addressed within sport and recreation communities.  We recognized that there was a real educational need for good, solid information on asthma, allergies and air quality both in schools and the sport/recreation community."
So far, feedback for the programs has been exceptionally positive. "It has been really well recognized by Health Canada and Environment Canada for the work it has done in the schools around air quality and active living," says Liepa. "And, it's the only organization that's been allowed to have a presence inside of an Olympic Village. In 2010, athletes from all over the world were able to interact with Clean Air Champions."
Over the past 10 years, Clean Air Champions has grown substantially. What began as an idea between three people has evolved into a national charity that runs programs in most provinces and territories with over 190 champions who are Olympic, Paralympic, or National Team athletes.
Currently, Liepa is developing an educational module in partnership with the Coaching Association of Canada addressing lung health and air quality for sport coaches.   The module will focus on how coaches can help support positive sport experiences for athletes with asthma or allergy and minimize the impacts of air pollution. She stresses the importance of education and understanding that air pollution affects everyone.
"The bottom line is that air pollution isn't just a concern for people with asthma and allergies. There's no safe level of exposure to pollutants such as particulate matter. Even though a healthy adult might not experience any symptoms, there's still an impact happening."
Liepa says that Clean Air Champions will continue to create new projects and educate the public until the day that their services are no longer needed; a day when "everybody is healthy, the environment is clean, there's no climate change and we're all living active and vibrant lives."
True Sport encourages its members to help Clean Air Champions with its Air Aware program by taking a couple minutes to answer this short survey http://www.surveymonkey.com/s/SportRecSurvey.
For more information on Clean Air Champions programs or to book a Champion's presentation, visit www.cleanairchampions.ca.