TRUEPlay Multisport
A Quality Sport Opportunity... Register Now!
The TruePlay MultiSport program is for children 7 & 8 years old, located at D.Roy Kennedy school every Wednesday from 6-7 and 7-8 pm. Over 12 weeks, participants will have the opportunity to play 5-7 different sports, with sessions led by specialist coaches from the Ottawa area. The development of both Physical and Ethical literacy are the foundation of this program, and are ingrained into each session.
Check out the Program Flyer for more information and registration details.
Limited spots available - Registration closes September 27th .
---
Changing the Game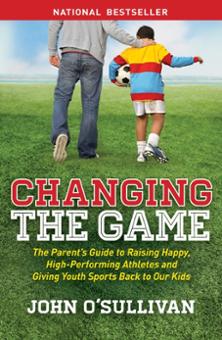 As part of a new education series supported by an RBC Learn to Play grant, the True Sport Foundation was pleased to host author and speaker John O'Sullivan in Ottawa on January 24.
John is the author of the bestseller Changing the Game: The Parent's Guide to Raising Happy, High-Performing Athletes, and Giving Youth Sports Back to our Kids. He is also the founder of the Changing the Game Project – which was created to help coaches, parents and administrators develop high-performing athletes through positive, child-centered sporting environments.
Attendees listened to John discuss the ways we can help our young athletes perform to their potential, while at the same time giving them ownership and enjoyment of their sports experience. His talk touched on:
How to keep your kids in sports
How to encourage your kids to perform well
How to change your kids' sports experience for the better
How to motivate your kids to take ownership for sports
How to help, and not hinder, their performance through the things you say and do
TEDx Talk
TRUEPlay Multisport
John O'Sullivan's appearance was the kick off to our education series tied to a collaborative project that will bring together multiple sectors of the community – sport, recreation, education and individual citizens – to help us educate Ottawa area communities about the importance of creating an environment that focuses on age- and stage-appropriate physical and ethical development.
TRUEPlay Multisport is a nine-month pilot project targeting children in Grades 1 and 2. The children will participate in a variety of sports learning new skills while developing their physical and ethical literacy skills. Physical literacy  is developed through a wide variety of fundamental movement skills such as running, throwing, catching and jumping. The True Sport Principles provide the foundation for nurturing the growth of ethical literacy in children and youth – which continues to progress with age and through stages of development.
Research indicates that for all-round development, our kids need to play different sports and participate in a variety of activities from an early age, programs should be delivered by qualified learning facilitators and be consistent with the Long Term Athlete Development framework.
TRUEPlay Multisport, will strive to develop character in our children through sport by providing them with opportunities to try new things and develop skills and confidence so that they can enjoy the positive benefits of a quality sport experience.
Project goals:
Provide the opportunity for children to participate in a quality multisport experience with a focus on physical and ethical literacy.
Educate community leaders on the importance of integrating physical literacy and ethical literacy into their programs.
Engage and encourage parents to seek out quality sport experiences.
Instill character in our children and strengthen our communities through a positive sport experience.
Inspire children to be active for life.
The True Sport Foundation is a proud recipient of an RBC Learn to Play Grant to build a healthier community by increasing both physical and ethical literacy of Canada's kids and youth.
Learn more about the RBC Learn to Play Projects.